Aquagold
Excellent at improving skin quality for smooth, glowing results.
A good skin care routine is key to maintaining a smooth, youthful complexion. But it can be hard to combat the effects of time, stress and gravity with just topical products. To truly restore the health and beauty of your skin, you need something that goes deeper to address your biggest concerns at the source. That's why we offer AQUAGOLD® fine touch™ at BluVida Precision Health & Wellness. An innovative microinjection treatment that delivers potent ingredients where you need them most, AQUAGOLD® fine touch™ infuses your skin with vitamins, serums, enzymes and other specially formulated solutions tailored to your unique beauty goals.
Introducing AQUAGOLD® fine touch™
BluVida is excited to offer a cutting-edge innovation in skin needling: the AQUAGOLD® fine touch™. This treatment combines microneedling techniques with a customized infusion of proven skin care ingredients, effectively treating common concerns like acne, wrinkles, oversized pores, dullness, hyperpigmentation and more. Compared to traditional microneedling, the AQUAGOLD® fine touch™ is a microinjector device that uses ultra fine, hollow, gold-plated needles to deliver your specially formulated cocktail directly into the skin. Excellent at improving overall skin quality for smooth, glowing results, this treatment has improved upon the fundamental techniques of microneedling to give patients a transformative experience without surgery or downtime.
Overview of AQUAGOLD® fine touch™
How Does AQUAGOLD® fine touch™ Work?
AQUAGOLD® fine touch™ is more of a microinfusion system rather than a microneedling device. It is a single-use vial applicator attached to 20 hollow, 24k gold-plated needles thinner than the width of a hair that nourish your skin with carefully selected ingredients. As the device is gently pressed across the skin's surface, the AQUAGOLD® fine touch™ penetrates the dermis at an optimal depth while simultaneously delivering infusion cocktails through its patented microchannels, maximizing absorption and effectiveness. Since there's no dragging, rolling or tearing of the skin during treatment, this technique also reduces unnecessary pain, redness or bleeding to provide a more comfortable experience.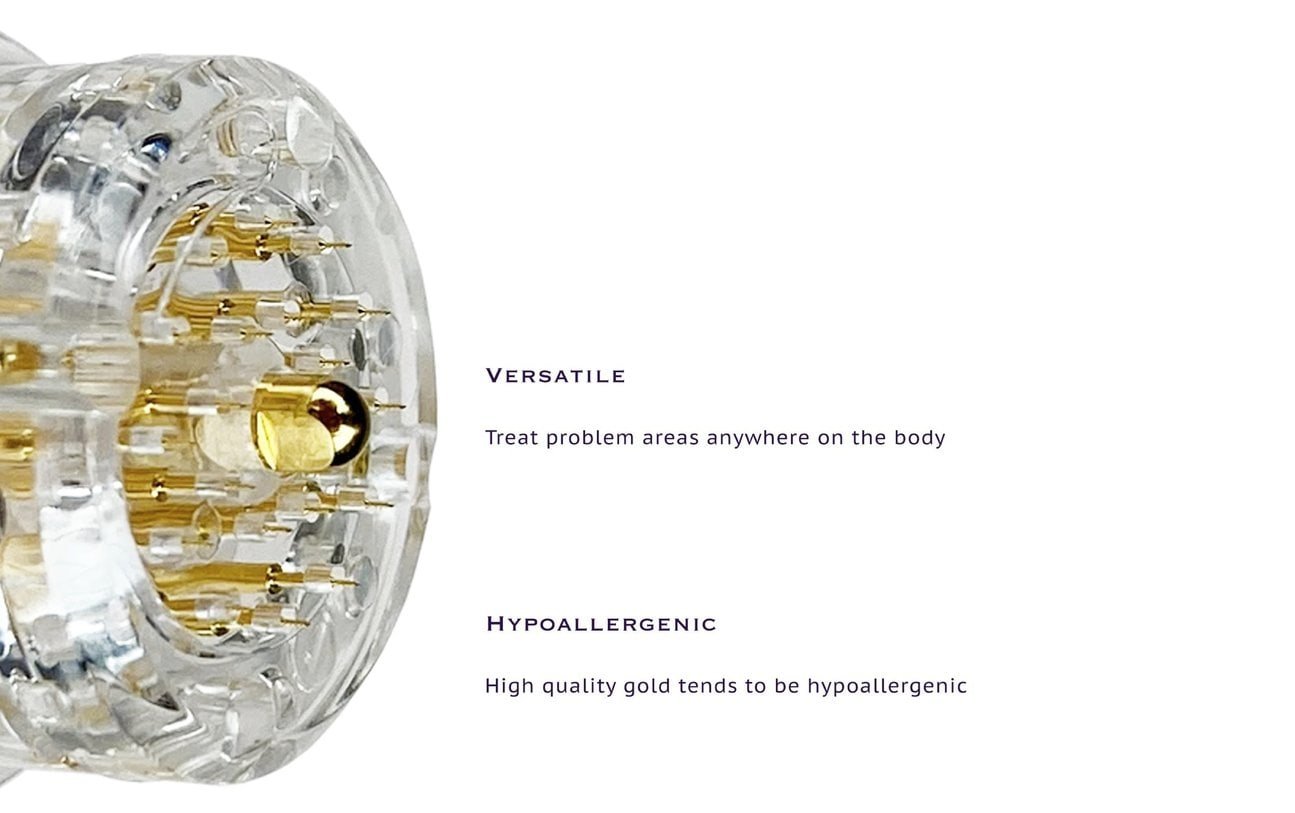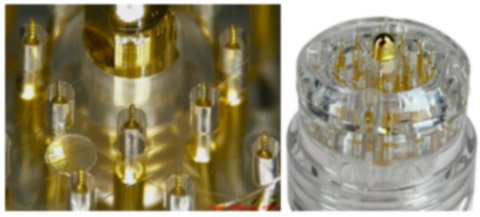 AQUAGOLD® fine touch™ vs. Microneedling
AQUAGOLD® fine touch™ is in a treatment category of its own and differs from microneedling in some crucial ways. It's classified as a microchanneling or microinfusion facial treatment and delivers several advantages over similar techniques, including:
Gentle treatments are ideal for sensitive skin
Microchanneling ensures even, predictable results
Safe for all skin tones and types
Delivers infusion cocktails into the skin during treatment
Addresses a wide range of concerns
Creates thousands of tiny microinjection sites for improved absorption
Can treat more sensitive areas
Provides natural-looking results
Plumps, tightens, hydrates and more without pain or downtime
What Goes Inside the AQUAGOLD® Vial?
AQUAGOLD® fine touch™ is a completely personalized treatment that allows you to select the best ingredients for your skin care needs. The vial can be filled with antioxidants, serums, dermal fillers, enzymes, peptides and even neuromodulators to help you achieve your aesthetic goals. Whether you want to minimize the signs of aging, shrink pore size or reveal a brighter complexion, our clinicians can help you formulate an infusion cocktail that's right for you. The vial may also contain a local anesthetic to ensure that your AQUAGOLD® fine touch™ treatment is as comfortable as possible.
Is AQUAGOLD® fine touch™ Right for Me?
AQUAGOLD® treatments are highly customized, making them safe and effective for most patients with a wide variety of concerns. Those who are pregnant or breastfeeding, dealing with active acne or have certain skin conditions might not be good candidates for this particular treatment, but our team of experts can help decide if AQUAGOLD® fine touch™ is right for you during your consultation. This treatment can be formulated to address the following concerns:
Fine lines and wrinkles
Pigmentation issues
Enlarged pores
Excess sebum

 

Redness
Acne and scarring
Hair loss
Loss of skin elasticity
Dull complexion
While most often performed on the face, the AQUAGOLD® fine touch™ can also treat concerns on the neck, lips, back of the hands and décolleté. If you need more comprehensive rejuvenation, your treatment can be combined with other rejuvenation procedures to enhance your results, including laser resurfacing, dermal fillers and more. Your practitioner can recommend the right combination of treatments for achieving your goals. 
What to Expect During Treatment
Your AQUAGOLD® fine touch™ treatment will be performed in-office by one of our experienced practitioners. After evaluating your skin care needs, your specially formulated cocktail of ingredients will be loaded into the sterile, single-use vial. Then your skin will be cleansed, and a topical anesthetic may be offered to ensure your comfort. 
Your provider will begin the treatment by gently pressing or stamping the AQUAGOLD® fine touch™ device across your skin in an overlapping pattern. The gold-plated microneedles will penetrate your skin and deliver your infusion ingredients directly into the dermis through microchannels. The needles will also trigger the body's natural healing response and lead to an increase in collagen production, a key component of healthy, youthful skin. Compared to traditional microneedling, AQUAGOLD® fine touch™ is virtually painless, with most patients experiencing mild to no discomfort during treatment. 
Appointments typically last about 20 minutes, but this may vary depending on your specific concerns and the size of your treatment area. After your session is completed, you can immediately resume all normal activities with no downtime.
Results & Recovery
There's no downtime associated with your AQUAGOLD® fine touch™ treatment, but you may notice some mild redness afterward. This usually dissipates quickly in under an hour. To ensure the best results by giving the serums time to work, you should avoid washing your face for the next few hours and wait until the following day to apply makeup.
Your results will be immediately noticeable and continue to improve after your treatment. Your complexion will look refreshed, radiant and glowing. The longevity of your results will depend on the ingredients used, but treatments can be performed every four weeks to keep your skin looking smooth and youthful. This makes the AQUAGOLD® fine touch™ an excellent addition to include in your monthly skin care routine or as part of your pre-event skin prep. 
Schedule a Consultation
AQUAGOLD® fine touch™ is a truly amazing new microinfusion device that uses a patented technique to improve your complexion. This device exfoliates, shrinks pores, improves superficial acne scarring, and brightens, all while delivering your favorite product directly into your skin for a more healthy and lively look. To schedule a consultation or learn more about AQUAGOLD® fine touch™ treatments at BluVida Precision Health & Wellness in Katy, Texas, contact or call us today at (713) 493-7777.