New Year, New You & New Technology to help your fitness goals!
If you feel like you've tried everything to lose weight before and NOTHING has worked, then don't worry. If you've found it hard previously to lose weight in conventional ways, then we're here for you. Here at BluVida, we've created the only advanced technology-based weight loss regime focused specifically on targeting stubborn weight.
BluVida tour
BluVida Wellness & MedSpa Center is a place where you can get the support and tools you need to find your perfect body. We believe in the power of technology to help you achieve your goals. You don't have to do it alone anymore, and you don't just have to rely on the gym or those morning runs!
Do it the better way and come take the BluVida tour. Our machines are all non-surgical, no-downtime, passive and painless. Our technology combined with other BluVida services makes our weight loss program different from the rest.
We know it's not easy to lose weight.
That's why we've created a clinic where you can come in and get the advanced technology that you need to finally be able to shed those pounds.
We have all the latest equipment, and our team of experts will help you use it effectively.
They'll also make sure you're eating right and exercising properly, so you can reach your goals faster than ever before.
Leave the old weight loss tricks in 2022.
You've tried everything else, why not try us?
BluVida technologies that support weight loss
At BluVida Wellness & MedSpa Center we use next-generation machines to target the inner and outer mechanisms of fat loss so that you can see results from the very first session.
Our routine includes:
BodySculpting
CryoVibe Sessions
Pulsed Electro-Magnetic Field (PEMF) guided massage
Ozone Sauna for increasing metabolic rate and burning up to 1,000 calories a session
Combined with biohacking technology like Red Light Therapy, HyperVibe, and Molecular Hydrogen.
BodySculpting:
The ultimate tool to eliminate fat, shape stubborn areas and tighten loose skin.
Slim Sculpt uses red LEDs at both 635 nm and 880 nm wavelengths to penetrate the body's fat storage.
During the treatment, the fat cells, also known as adipocytes, absorb the electromagnetic energy from the LEDs, which causes the surface of the fat cells to open and drain.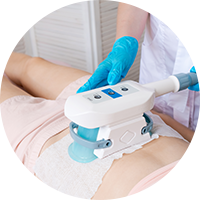 CryoVibe Sessions:
We use a special technique known as Cryolipolysis here at BluVida to reduce the fat to a cold temperature and basically freeze fat deposits.
Fat cells compromised by Cryolipolysis become a waste product and then are processed by the lymphatic system and eliminated from the body permanently. These fat cells will not be regenerated by the body.
We combine cryo treatments with Hypervibe where you can tone your muscles and move fat through the lymphatic system more efficiently.
Available all over the body, with zero downtime.
Pulsed Electro-Magnetic Field (PEMF) guided massage:
Our incredible practitioners Teresa and Kendall are experts at guided PEMF massage therapy and incorporate acupuncture on your meridian points to help improve lymphatic drainage and improve your overall body composition.
PEMF can help boost your cellular metabolism and thus help you lose weight.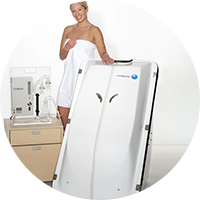 Ozone Sauna Sessions:
The ozone sauna is a steam sauna that adds ozone into the body of the sauna.
Ozone sauna speeds up the metabolic processes and one 30-minute session results in a loss of up to 1,000 calories.
Ozone Sauna helps your immunity by eliminating viral and bacterial infections, relieves pain and speeds up the healing process, and helps to relieve muscle and psychological stress.
It is also one of the most efficient ways to eliminate toxins and metals from the body.
We also offer Ozone Sauna with EWOT (exercise with oxygen therapy) which adds even more cardiovascular and immunity benefits!
These incredible strategies combined with our superstack of biohacking technology are guaranteed to help you win this year.
In addition to technologies that support weight loss, we also offer:
Holistic Nutrition
Bio-identical Hormone Therapy and a Functional Medicine Approach
Energy Shifting Services including Emotion Code which can support removing cellular imprints that are driving poor eating patterns, anxiety, or depression
Semaglutide injections and Peptide Therapy
Vitamin injections that support energy and fat burning
Detoxification programs to help you shed those toxins and fat
Nutritional IV therapies to increase metabolism and increase energy production
If you're ready for a change, don't wait any longer—call us today at 713-493-7777.
We've got the 2023 solution for you.
Book your visit now and come to our clinic for advanced technology and state-of-the-art treatment options that can help you lose weight quickly and safely.