We like to do things differently at BluVida Wellness & MedSpa Center, which is why our beauty regimes are not only focused on your outer appearance, but are combined with longevity biotech and regenerative aesthetics.
We don't want you to ignore your cellular aging pillars and try to band-aid the damage. Our combination of ancient and modern medicine is designed to give you the best possible results without sacrificing your health in the process.
We're here to help you age gracefully. Not only can our advanced technology help you reverse your biological age to twenty years younger, but we also combine this with key facial tools like ZO Skin Health, Hydrafacial, Beauty Intravenous Therapy and Peptides.
When we use the yin-yang of inner and outer modalities we are going to get a 10x return across the board on how you look, and most importantly on how you feel.
BluVida's aim is to recapture your youthful structure and function using the body's self-regulating, self-healing and self-repair systems.
In regenerative aesthetics, the goal is to spark the production of new cells and specific tissues that naturally rebuild collagen and elastin
Beauty routines that work on the cellular level
Visit BluVida Wellness & MedSpa Center and enjoy beauty routines that include:
ZO Skin Health:
Provides a comprehensive range of solutions that will restore skin to a healthy state.
Utilize innovative ingredients to provide stabilization and continuous skin health restoration.
Help address hydration, skin barrier restoration, DNA repair, inflammation management, pigment control, antioxidant protection and UV protection.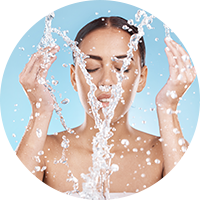 More hydrated, bright, plump, and clear complexion.
Reduces fine lines and wrinkles, increases firmness, evens tone, texture, and brown spots.
Deep exfoliation that cleans your pores, removing debris and allowing for better penetration of face serums tailored to your skin type.
Beauty Intravenous Therapy:
Our Inner Beauty Glow drip has the perfect amount of essential nutrients, vitamins and minerals you need to rebuild collagen, elastin and regenerate your youthful structure.

The best way to look younger and healthier is to replenish the body with nutrients often lost through diet, stress and environmental factors.

In addition to providing an immediate boost of moisture, intravenous therapy also helps rehydrate skin cells, reduce inflammation and offer a healthier glow.
These incredible modalities combined with our next-generation technology like Red Light Therapy, Molecular Hydrogen, Ozone Therapy are the ultimate way to truly reverse aging.
BluVida Wellness & MedSpa Center takes a holistic approach to beauty and wellness, which means we consider all aspects of your life and health when we're creating a treatment plan for you. We want to help you get the most out of your treatments so that you can see real results—not just for the next few days or weeks, but for years down the road.
Call 713-493-7777 today and ask for the specials you are interested in.